Decking (Composite & Wood)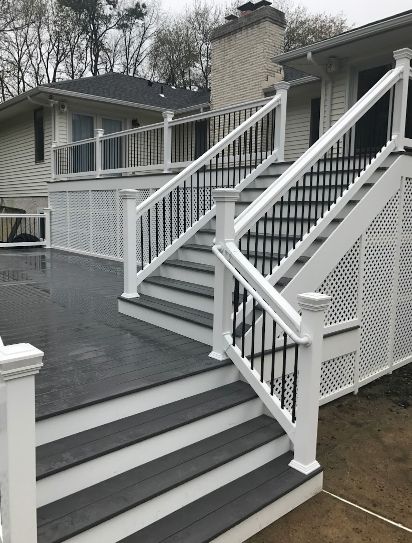 Decking (Composite & Wood)
Decking (Composite & Wood)
A custom deck is a timeless addition to your home, and at Jersey Shore Deck, LLC, we strive to deliver an enjoyable and hassle-free experience from start to finish. Our dedicated team takes care of every aspect, starting from initial drawings and permitting, ensuring a seamless process until completion. We are committed to managing all the details and keeping you well-informed throughout the project.
Choose from our premium selection of aesthetic wooden and composite materials to create the perfect deck that maximizes your backyard space, enhances the overall appeal, and increases the value of your property.
Composite decks, crafted from a blend of wood and synthetic materials, boast up to 95% recycled content. Enjoy the benefits of minimal maintenance, resistance to bugs, rot, and fading, and a long-lasting, eco-friendly solution for your outdoor space.
Our in-house architectural design team brings your vision to life while ensuring structural integrity and compliance with all building codes. As a licensed general contracting company, we handle every aspect of the project, from budgeting and planning to labor sourcing and final inspection.
If you require deck repairs, our services cover a wide range of solutions, including board, post, and stair replacement, new nail or fastener installation, and surface refinishing. Rest assured, our experts will provide professional recommendations to restore your deck's beauty and functionality.
Thinking of upgrading your home with a new deck? Get a personalized quote today for deck rebuilds and additions in the Ocean and Monmouth County area. Trust Jersey Shore Deck, LLC to turn your outdoor living dreams into reality.
Contact Us
Subscribe Our Newsletter
Stay in the loop with our latest outdoor inspirations and exclusive offers.